If you're in market research, you know how important conferences are to the industry's future. Conferences provide researchers the opportunity to network, talk about the state of the industry, and explore many of the emerging research methods and technologies. This enables businesses and our industry to become stronger as a whole.
As longtime supporters of QRCA, Fieldwork has been involved in many QRCA events over the years. This year, at our booth at the 2019 QRCA Conference in Savannah, we were able to catch up with a lot of familiar faces and speak with many of our long-standing clients. In doing so, we were able to go into greater detail about some of the projects we have worked on in the past and examine the scope of our client's needs in closer detail. Taking a step back and developing a greater understanding of ways to better serve our clients in the future is exactly why we believe conferences such as QRCA are so invaluable.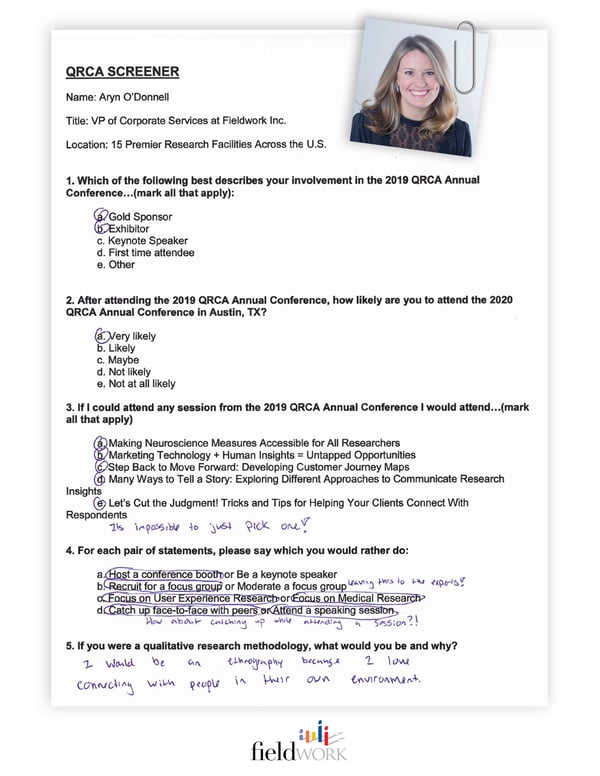 Many of the attendees who came by our booth also were excited to discuss their findings from the year as well as some of the major trends that are currently happening within the industry. For example, one trend that was commonly discussed with us was the advancement in neuro research. Learning about developments such as these is extremely important as it helps us forecast the type of respondents we may need to start recruiting in order to help our clients stay up to speed in the industry.
At Fieldwork we value conferences like QRCA because they provide the unique opportunity for our industry to discuss cutting-edge industry techniques, best practices, and new technologies. However, often the most valuable part of attending conferences comes from being able to talk with peers and build upon relationships to gain a better understanding of their perspectives, future projects, and needs.