Wearable technology has become an integral part of our daily lives, with the demand for these devices on the rise. Whether it's fitness trackers, smart jewelry, or blood pressure monitors, wearables are becoming increasingly sophisticated, and as such, their user experience (UX) design needs to evolve accordingly.
With the market growing, it has become essential to ensure that these devices are designed to cater to the needs of a diverse user base, including different age groups, ethnicities, and skin types. Inclusive user testing starts with inclusive user recruitment – being mindful of individuals with different lifestyles, habits, and health conditions.
Working with an experienced UX research recruitment partner can help ensure that the right participants are recruited, who can provide valuable feedback to designers on how to improve the UX of wearable devices. Let's explore how working with a recruitment partner can help UX/CX researchers secure the right users for wearable device research, and ultimately create a better UX for everyone.
Benefits of Working with an UX Research Recruitment Partner
Recruiting the right users is a critical factor in the success of any UX project, and this is particularly true for wearable device research. Working with a recruitment partner can help ensure that you have the right participants to interact with your wearable device, which directly influences the likelihood of answering your research questions.
When selecting a UX research recruitment partner, it's essential to look for someone who shares your values and is invested in the recruitment process. A great partner should employ various tactics to secure the right users and provide feedback on market feasibility. Here are some key elements to look for in a partner:

Inclusive User Selection
A recruitment partner should offer expertise in inclusive recruiting, ensuring that a specific and diverse group of users are ready to participate in your research. Look for a partner who has experience recruiting users based on criteria such as skin type, ethnicity, age, biometrics and biomarkers, and blood pressure.
Blind Recruitment
A partner experienced in UX research will keep all project elements blind during the recruitment process. By adhering to security protocols and best practices, brand names and device details are anonymous, keeping your project safe.
Human-Verified User Screening
While social media and online prescreens can quickly identify and attract specific users, it's essential to collaborate with a recruiter who has trained staff members to confirm users before accepting them into the project. A multi-touch process is best to guarantee that fraudsters, liars, and cheaters are caught and prevented from participating. Additionally, a partner that utilizes phone confirmations allows for the detection of details that might not be identified through online panel.
Additional Project Management Services
A great qualitative research service partner can offer project management services like device distribution and collection, helping ensure that wearable technology ends up in the right hands. Having confirmed participant pick up items in-person helps fight fraud and ensures security.
Experience Matters in Research Partnerships
Experience is a crucial factor to consider when choosing a research partner. Selecting a partner with extensive experience in UX testing and design for wearables can ensure your research has true business impact.
Working with a partner who understands the nuances of UX testing is invaluable. They are likely to have experience testing a variety of wearable devices, including:
Fitness Trackers

Smart Jewelry

Smart Clothing

Pregnancy Monitors

Wearable Blood Pressure Monitors

Artificial Intelligence (AI) Hearing Aids

Augmented Reality (AR) and Virtual Reality (VR) Headsets
Ensuring Security and Confidentiality in UX Testing Recruitment
When it comes to launching or testing a technology product, security and confidentiality are paramount. Partnering with a UX research recruitment partner who understands the importance of these factors and has robust protocols in place can safeguard project details and sensitive user information.
A reputable partner should offer NDA (non-disclosure agreement) and ICF (informed consent form) management services for all participating users and have a blind recruitment process in place to ensure that all project elements remain confidential. If the wearable device needs to be distributed before the day of research, the partner should be able to handle that in person, rather than through the mail, to confirm the identities of the participants and ensure that the device reaches the correct person.
In-person retrieval and collection not only increase the security of the device but also provides a touchpoint for the participant to ask questions and verify details, ensuring they show up on the day of research ready to participate. Trust and transparency are vital in any research partnership, and a knowledgeable recruitment partner can help ensure both.
The Value of Recruiting Partners in UX Design for Wearable Technology
Working with a recruitment partner who understands the importance of inclusive and blind recruiting can ensure that the right users are recruited to improve the user experience of wearable devices. Moreover, a qualitative research service partner can handle tasks like device distribution and collection, allowing for a secure and controlled fashion for users to pick up items in person. Maintaining security and anonymity through NDA management and device distribution and collection should be a top priority for any UX design research project, and working with an experienced recruitment partner can help ensure this.
As wearable technology continues to evolve and become more prevalent in our daily lives, designers must continue to prioritize the needs of the user and work with recruitment partners to ensure that their research is comprehensive and inclusive. Let's be real; no one wants to wear a clunky, uncomfortable device that only fits one type of person. We need wearables that are accessible and user-friendly for everyone.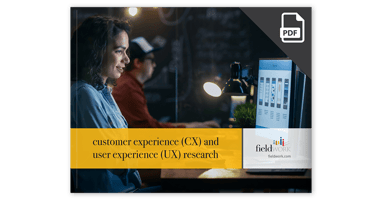 WANT AN ADDITIONAL RESOURCE?
In this comprehensive guide, we uncover the pillars of user and customer experience and how working with the right research facilitation, participant recruiter and focus group or venue partner can positively amplify the impact of your studies.