We pride ourselves on being more than just a focus group facility. Our intent lies squarely on being your qualitative research partner, dedicated to providing exceptional service so you can focus on delivering valuable insights for brand and business impact. For us, excellence is not one thing. It means that our team goes above and beyond and that excellence comes in many forms - convenience, comfort, capabilities, and collaboration in our quest to exceed your expectations.
Excellence Through Effortlessness
Convenience plays a vital role in ensuring a seamless research experience. Our focus group facilities are strategically located in areas that allow us to recruit participants from a broad area and have convenient, close parking available. It's not just about location, though. Our clients are managing multiple projects, field pressing questions from their teams, and are often on the road trying to get it all done. When it comes to delivering excellence, we want to eliminate any potential stressors and ensure everyone (moderators, end-clients, and participants alike) feels at ease from the moment they arrive. By prioritizing convenience, we create an environment that fosters relaxed and genuine discussions, allowing for accurate data collection and insightful analysis - and it feels effortless!
Excellence in Environment
At Fieldwork, the comfort of our clients and participants is always top of mind. We describe ourselves as specialists in hospitality, and our attention to detail is evident in how we care for our market research facilities and cater to your every need. From the initial project planning to the moment our guests step into our facility, they are met with a warm and welcoming atmosphere. We provide comfortable seating, appropriate lighting, and spacious rooms to facilitate productive discussions. Flexibility in the space means you have the right size and type of room you need to feel completely comfortable. Additionally, we offer a range of refreshments and snacks to ensure everyone feels cared for and at ease throughout the day- even when your work extends across multiple days.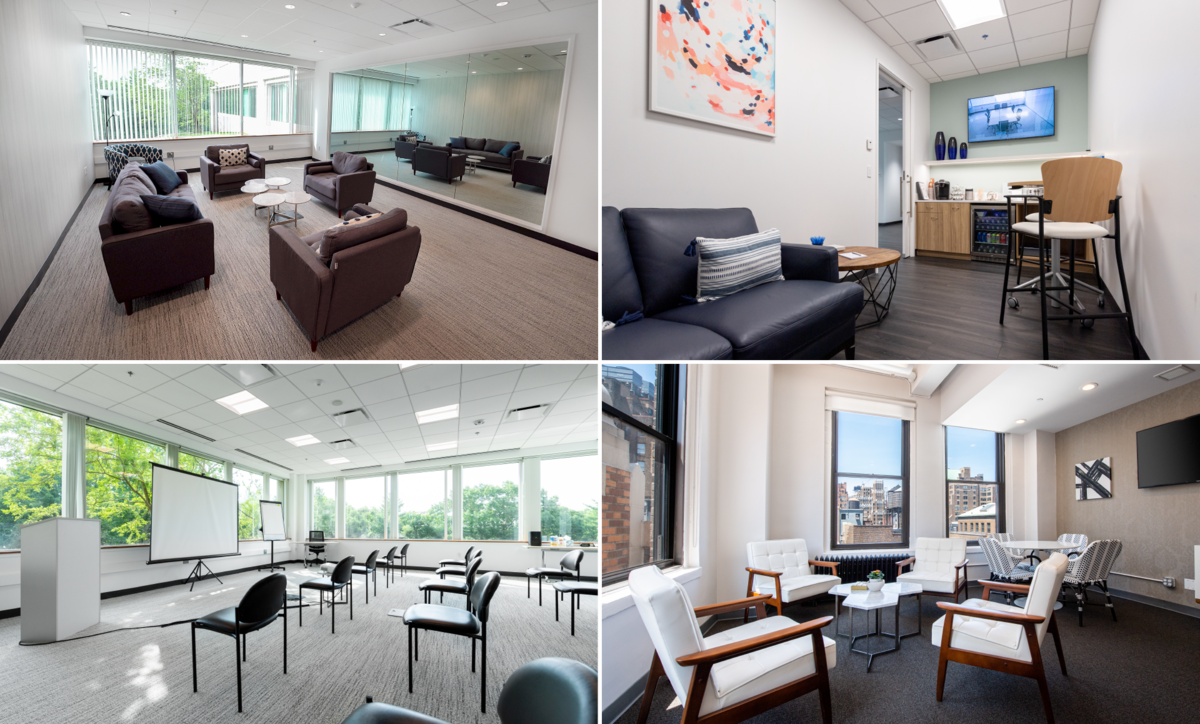 Excellence Through Expertise
Fieldwork's focus group facilities are not just physical spaces for research. Our team has expertise from serving the insights industry for decades. We offer comprehensive services to enhance your entire research journey. From project management to room configuration, participant recruitment to catering options, session recordings to translation services, and more - we provide a comprehensive experience tailored to your specific needs. Our facilities also leverage cutting-edge technology to allow you to observe focus group research in real time from anywhere in the world. These capabilities let us provide a truly tailored experience.
Excellence in Engagement

Need a cup of coffee? We got it!
Need a last-minute room configuration change? We've got you covered!
Forgot to order transcription services? We'll add it now!
We consider ourselves an extension of your team, working together to achieve your research facilitation goals. Being a great host means anticipating an unforeseen need and responding quickly. At Fieldwork, we understand that no two projects are alike and customize our approach to ensure we align our actions with your goals. We also understand that things change and remain available to respond to emerging needs.
When it comes to qualitative research, the goal of our whole team is to go beyond the standard. Our commitment to convenience, comfort, capabilities, and collaboration drives us to deliver exceptional service to our clients. Trust Fieldwork to be your qualitative research partner; together, we will exceed expectations. Focus on the research. We'll do the rest.