The Quirk's Event conferences may have finally come to a close for the season, but their impact on the market research community will last long into the year. As any researcher who has attended before knows, the environment that is cultivated at these conferences is undeniably important for the growth and development of our industry. Having the opportunity to come together to learn from some of the greatest minds in market research, while having the chance to network and discuss the state of the industry is exactly why all of us here at Fieldwork have been longtime supporters.
As a market research recruitment and facilities partner, attending the Quirk's Event conferences helps us keep a pulse on the industry and gauge potential areas for improvement as an organization. More importantly, however, we see it as an opportunity to come together and show our gratitude and support for one another in the MR community.
This year, we had the opportunity of being Event Exhibitors in London and Registration Sponsors in both Brooklyn and Chicago where we were excited to be able to interact with new attendees and catch up with old colleagues. Whether it was stopping by our booth in London and talking to our local expert or picking up a name tag in Brooklyn or Chicago at our sponsored registration desks and participating in our critter raffle, we were delighted to provide every guest with the same welcoming service and hospitality we provide our clients day in and day out. The opportunity to highlight our dedication to customer care and create positive associations between attendees and the Fieldwork brand was invaluable to us as a company.
In addition, the Quirk's Event provided us the opportunity to watch our clients present their work and spend quality time with them. Being able to focus on deepening our industry relationships by engaging with our peers and clients face-to-face is exactly what makes sponsoring and attending the Quirk's Event so special to us as a company.
Of course, there is no doubt that being able to better educate ourselves on the industry is important, but the true value gained from conferences like the Quirk's Event comes from being able to learn more about our clients and peers as people and continue supporting them long into the future. See what Fieldwork's own Kelsey Buttimer and Corie Suzuki had to say about their experience below!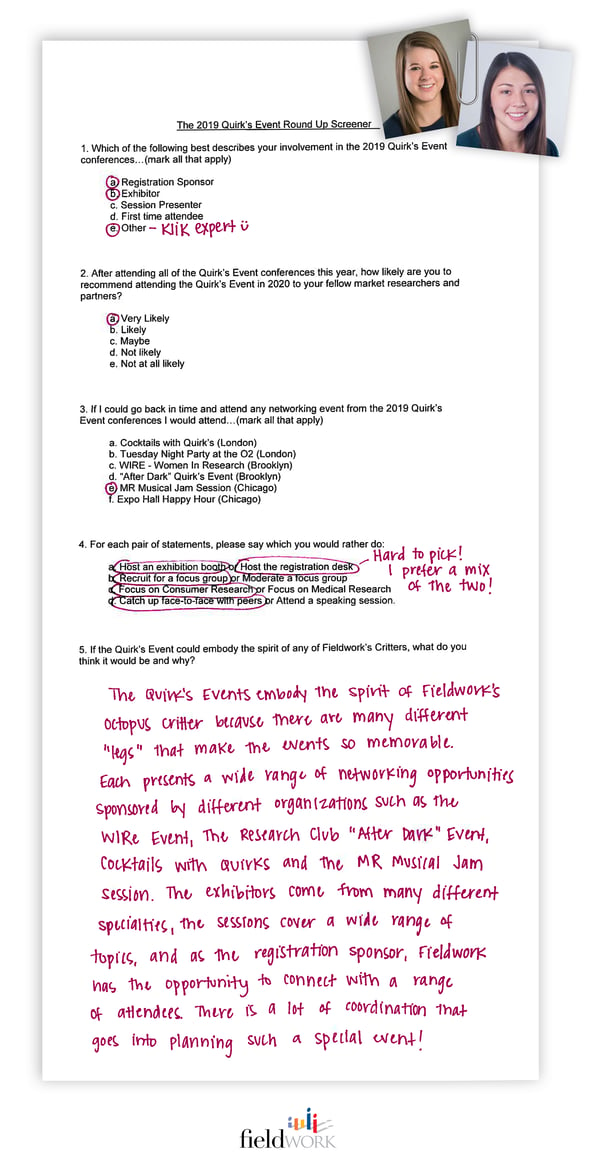 ---
At Fieldwork, we value our clients. If you're looking for a reliable market research recruitment partner that prides itself on providing quality service contact us today.