There is a time and place for everything when it comes to researching and connecting with your customer. But there's just no replacement for the sort of synergy, body language, eye contact, and energy in the room that is produced when people are together – face to face. 2020 brought a variety of challenges to the market research world, and technology has been a useful tool to fill the gap when the world needed to be distanced, but the challenge of making informed decisions for real business impact is best accomplished with insights gathered from authentic feedback from in-person focus group studies.
Online data collection has its place, but the time away from in-person studies has served to highlight some of the ongoing problems and concerns that arise with online studies and data collection. A few of those issues include:
Limited ability for moderators to clarify finer points of discussions due to time constraints

Varying degrees of technology challenges including poor connection, low sound quality, background noise, and other broadcast interruptions

Inability of respondents to fully engage senses like smell, taste, and touch when required for feedback on product development or packaging feedback

Unpredictable distractions at home, office, or home office where the respondent gets online

Security breaches or inability to maintain confidentiality based on other people present (but not visible) during online sessions

Lack of ceremony of preparation for and transportation to a meeting place specifically designed to host a group eager to share feelings and observations on the same topic.
In-person research was a challenge during the global pandemic, and it can be at different times based on time or budget constraints, but the results are pure wizardry when you evaluate the authentic responses gleaned from face-to-face interactions. Here are a few key reasons we believe the magic of in-person research brings human factor studies to full fruition that leads to product development.
Key Reasons We Believe in the Magic of In-Person Research
THE MAIN STAGE

The right market research facility is located conveniently near hubs of activity that can streamline the job of a moderator and benefit a variety of client needs. Sites near airports and train lines can become a beacon of opportunity and cut down on travel time for the market researcher that is always on the go. Respondents are more willing to travel to urban areas with restaurants, attractions, and transportation resources steps away from a research site. They appreciate quality facilities and true hospitality.
Respondents can relax without distraction at an onsite facility. When a day is planned properly, participants loosen up and settle in, knowing that their needs will be met throughout the day. Home-bound respondents often are distracted by pets and kids, worried about time issues, or opening other windows on their screen during the session. When time is scheduled at a host site, people settle down, put away their phones, and open up to answer questions or follow directives.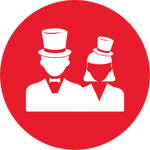 A True Magician's Assistant
Focus group facilities with excellent teams are focused on customer care. Project managers work hand in hand with market research consultants or moderators to bring client goals to the main stage all while treating the respondent with respect. A great project manager can make short work of properly sourcing the right respondents, ensuring transportation maps and full instructions with agendas are provided, scheduling catering, paying respondents, acquiring transcripts, and much more.
Working with a project management team, moderators can expect to focus on the research, rather than the minutiae of making coffee and paying participants. Project managers can pinpoint goals to create timelines and actionable items so that a moderator can step into the day in a prepared and hospitable environment ready to gather data. This kind of teamwork is essential for any successful partnership.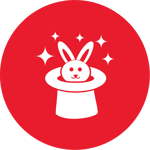 Ta-Da!
Every great research collector has a bag of tricks to help a group open up, collaborate, and share insights among a group of strangers. Working with a research site that incorporates hospitality into data collection can truly spotlight a skilled moderator and support when needed. With a full team onsite to address the needs of respondents, a premier focus group facility helps streamline qualitative research goals with a one-stop-shop experience for working moderators.
At times, the moderator's presentation can be quite an in-depth abracadabra of demonstrations and conversations with respondents that require focus. Specific research studies require attention to different needs:
Medical market research, including device testing, may require physical prototypes to be ready for participant use.

Taste tests require proper kitchen facilities for storage, presentation, and clean-up.

Human factors testing requires extreme confidentiality and exacting quotas.
Mock jury focus groups require geographically specific recruiting.
No matter what the type of research, a quality focus group facility can record presentations, stream live sessions to end-clients via CC-TV, offer transcripts, and offer all services moderators and clients need while providing hospitality to the respondents in tandem.
In-person market research strategies are back on the rise with more and more businesses needing clear feedback from consumers to push the needle forward in business innovation and strategy. The welcoming environment of a clean facility with friendly staff that takes time to care for the client's needs as well as the market research consultant can save time and money by preserving the integrity of data collection - adding up to a magical in-person experience.
We'd love to work our magic for you.