While advancements in online platforms have made virtual easier, there is nothing like face-to-face research to facilitate rich conversations and a better understanding of how customers interact with your products. Face-to-face research provides a holistic, 3-dimensional perspective, so your team can view live how a participant or user picks up the product, handles it, and uses it. Humans are social creatures that like to connect. The most natural way we connect is through meeting live. So, it makes perfect sense that in-person research has multiple advantages.
"Online research methods will never replace the experience of immersing yourself in a culture or city. The benefits of in-person research start well before any interviews begin, realized by the delivery of rich insights by humans through the nuances of language and movement that are infinitely more challenging to capture digitally. As brands continue to navigate global unknowns, in-person methods remain fundamental to our success as storytellers and data translators. They will continue to deliver key insights for better business outcomes."
- Kristin Luck, President of ESOMAR
Need to convince your stakeholders to prioritize face-to-face research?
Here are six competitive advantages to consider for your next research project:


1. Easier to Read Non-Verbal Cues
Visceral body language speaks volumes. Non-verbal feedback and facial expressions are easier to discern in-person, and moderators can more immediately address, in the now, the participants' reactions. These nuanced reactions cue the moderator to ask follow-up questions and dig deeper into the why. Being physically present allows the team to show respondents how to use a product and address confusion.
To create competitive products, your team needs to sympathize with your customer and walk in their shoes. Firsthand in-person research improves design and helps internal teams generate better and more advantageous attributes. How many times has the product team returned from several one-on-one testing sessions, knowing that there is a problem with a concept or a device and how to fix it? When the team directly witnesses how users collectively interact with a concept, they gain a richer sense of what needs to be done.
"I'm thrilled to receive positive feedback from our clients regarding successful in-person research. It is now if there was a time to explore how your audience receives your brand directly."
- Sarah Kotva, Executive Vice President of Fieldwork
2. Provides a More Secure Environment
Information and product prototypes are more secure because there is less opportunity for respondents to compromise the confidential nature of the discussion. While engaged in conversation with the moderator and fellow group members, participants have less access to their phones where they may be texting, taking photos, etc. Moderators can monitor respondents' behavior more precisely and prevent them from leaking proprietary secrets such as product materials. In addition, you don't have to mail out an expensive product prototype to users, and no added worry that the respondent won't return it.
3. Group Dynamics Generate More Opinions
When all parties are in the same room, the conversation becomes richer, and brainstorming flows. As one participant adds to the discussion, comments increase, and ideas emerge in a flurry. There are also painful silences, which are equally valuable. The in-person group dynamics contribute to the participants' need to have their opinions heard, perhaps because in-person research creates a more empathetic context. Participants get to know each other effortlessly and are more willing to both share their thoughts and disagree with one another.
Medical devices, healthcare organizations, and trial consultants have rediscovered how fully engaged respondents are in-person. Moreover, participants tend to enjoy the process. With enthusiasm at a higher level of engagement, group members are eager to speak out and critique product features or campaigns. In most live groups, the energy is palpable.
"The variety and nature of in-person research cover all industry sectors, with healthcare, medical UX, automotive, and consumer product testing particularly strong. The viewing back room is pleasingly vibrant, with corporate clients hugely enthused, which immersion in in-person research allows."
- Bob Qureshi, Managing Partner of iView London
4. Participants React Instinctually
There are contradictions between what people say and what they physically do. That is why ethnography and ethnographic interviews are in-person—simply observing what a participant does when opening packaging for a product used routinely will tell you more than having the participant describe what they do. Participants are likely to miss steps or embellish. How a person with diabetes uses a glucometer is second nature. It's innate and remembering how they use it may be tricky. If you have the glucometer in the room for participants to handle, they will pick it up and use it instinctually, which extracts more accurate insights.
"In-person research, by far, is a practical, relevant, diverse, and inclusive way of getting that more profound level of understanding of how we, as humans, are evolving."
- Roben Allong, President of QRCA
5. All Five Senses Are Involved
Even the best online technology can never deliver on all five senses. Gathering responses to product packaging, smell, and taste is vital for food, beverage, perfume, and clothing brands but even buying a car has a multi-sensory aspect. Reactions to texture, color, touch, and smell live much longer in our brains, so brand perceptions include sensory responses. How many times has a smell taken you to a long-ago memory? In-person research allows for more opportunities to explore all five senses, to understand which pair of jeans feel soft and which beverage has a super fizz. When two senses are appealed to consistently, both are amplified, so considering all senses in brand or campaign research is critical.
6. More Inclusive of All Participants
Research has shown that amplifying the voice of the unheard customer leads to better-crafted communication and product development strategies. Connecting with your respondents in an environment that is comfortable for them is crucial. While there are many benefits to virtual interviews, not all respondents have the same ability to navigate or access certain technology. In-person research eliminates those limitations and affords all potential respondents an opportunity to be heard. In addition to the benefit of inclusivity, in-person can also help to mitigate issues driven by technology fatigue. Creating an inviting in-person research environment will open up doors to those limited by technology requirements as well as those simply exhausted by the thought of another online meeting.
In-Person Is Irreplaceable
The benefits of in-person research can take products, marketing collateral, or legal arguments to the next level of specificity. Ready to launch your next face-to-face research project? We created this checklist to ensure no detail is left behind. Download the Ultimate Market Research Project Checklist to ensure success from the very first step.
Here's what people are saying about #FacetoFaceMRX: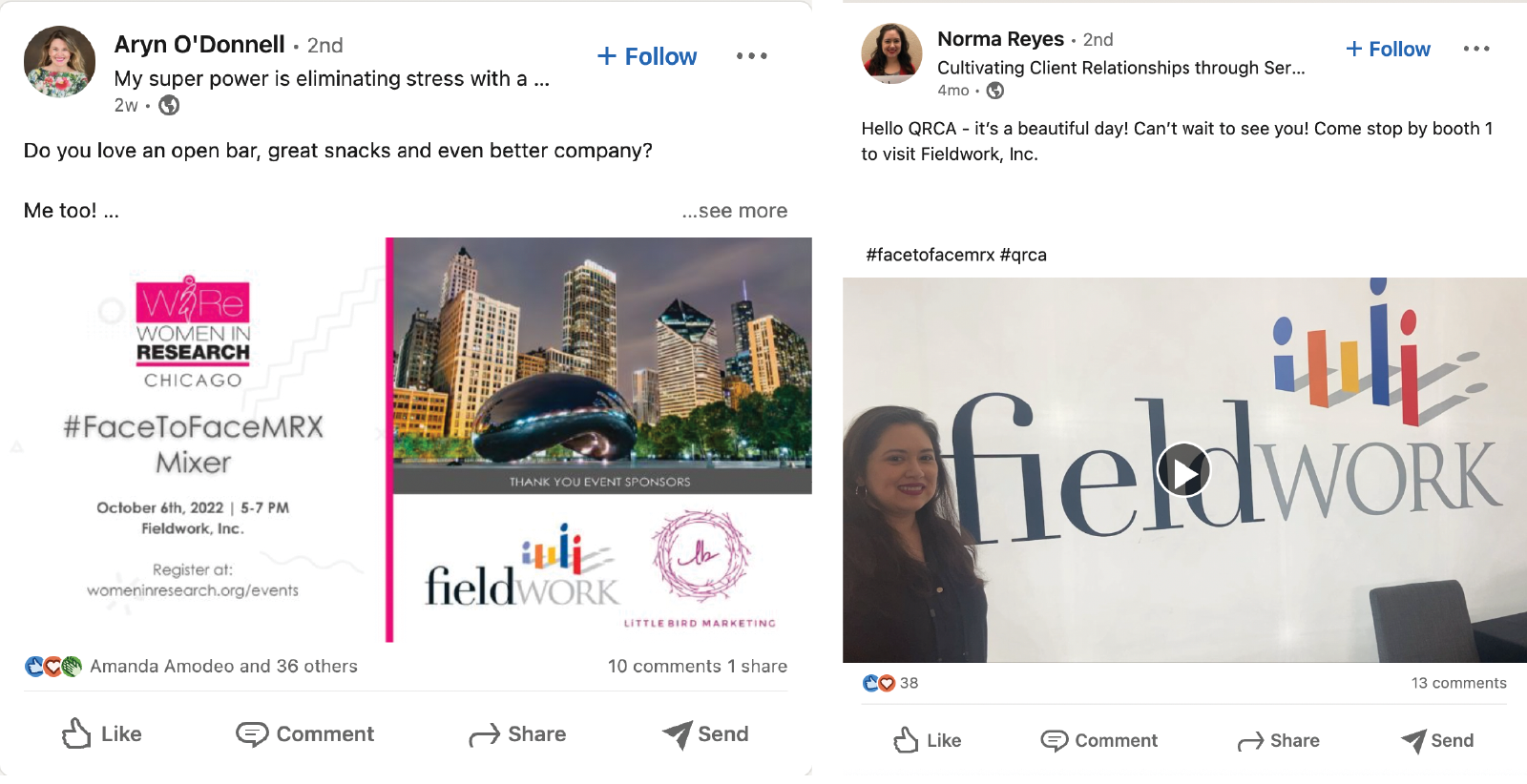 Have an in-person experience to share?




Post about it on social, use the hashtag #facetofacemrx and t

ag Fieldwork!