If there were one cardinal sin of conducting virtual research, it would be the assumption that it is the same as face-to-face research, but over a video call.
It isn't.
This oversight can result in a project that contains too many participants, groups that involve the wrong people, and conversations that don't provide actionable insights for real business impact.
At Fieldwork, we're experts at facilitating virtual focus groups. Our expert project managers coordinate each detail to ensure the right participants are present and prepped at the time of the virtual focus group. Equipped with our extensive experience, we have assembled some tips for adjusting your consumer research project to fit an online format. Whether you need to turn an in-person project into a virtual one or are designing an online project from scratch, these tips will set you up for success!
9 Best Tips When Conducting Online Focus Groups
1. Set the Rules of Virtual Engagement
One of the most common frustrations for computer-based voice technologies is overspeaking – the event of two or more people speaking at the same time due to delays in audio between speakers. In person, non-verbal cues allow other participants, and even the moderator, to anticipate when another member is going to speak. In a virtual setting, overspeaking inhibits clear communication, confuses participants, and can prevent focus group moderators from facilitating a productive conversation.
One way to mitigate overspeaking is to use a platform integrated with a traditional phone line. The use of a phone line significantly reduces audio delays between participants, is more resilient to connection issues, and allows the group to speak more naturally.


"Setting the conversation up for success from the very beginning is key. Being more intentional about laying the ground rules for conversation engagement should be done at the beginning of each session."
Crystal Martinez | President of Fieldwork Webwork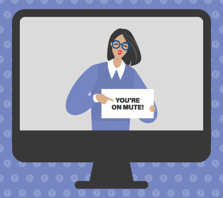 Approaching a conversation online is not the same as approaching a conversation in person. You may need to go around "table" in the order participants appear on the screen, initially. After the first round or two of questions, the group tends to get familiar with the process of muting and unmuting and they start speaking more naturally, even going out of turn. They start to get to know one another pretty quickly when the technology is not a distraction. Similar to in-person, you may need to call on any that are not actively jumping in on the conversation.
2. Adjusting the Screener
The identification of quality respondents involves a thorough screening process. Best recruitment practices include questions about the potential candidate's technological capabilities:
Do they have the right technology?

Ask about their type of computer, operating system, if they have a webcam and a fast and reliable internet connection

Are they comfortable using their computer?

Ask about their use of social media and conducting transactions online to gauge their familiarity
Discovering the answers to these questions will help find the right respondents, facilitate the most productive conversations, and provide valuable data to fuel business development. A quality focus group recruiting partner should have a more robust screening process for online respondents to address these possible pitfalls.
Your screener should also set expectations about exactly what participation will look like (video, IDI v Group discussion, length of session, the requirement of completing NDA documentation and a tech test).
3. Focus on Accessibility
One benefit of online qualitative research is the ability to interview anyone with access to the internet. People with underlying health concerns, limited mobility or lack of transportation many times are excluded from in-person research. Additionally, groups of respondents who are geographically dispersed are difficult to recruit due to extensive travel time. Online studies are a great way to boost inclusivity and facilitate more diverse data collection.
The COVID-19 pandemic caused a massive increase in the number of people using videoconferencing software. As a result, a greater percentage of the population is more equipped than ever for conversing on camera. This has increased access to previously untapped audiences as a resource for online research. By increasing the pool of people willing and able to participate in online studies, representative quotas are much easier to fill.
4. Fully Address Show Rates
There are occasions when participants fail to show up for the focus group interview. This can cause a lack of participant responses, incomplete user data or not enough information for actionable insights. Avoid this issue by over-recruiting the necessary participants by about 20%. With an added buffer, day-of no-shows won't impact the success of the group.
5. Check Your Tech
Another way to ensure respondents will show up is by completing a tech check prior to the group. Those who complete the required technology test are more likely to participate. Essentially, a technology test is a dry run for respondents. This should be completed by the online research platform provider before the set date of the focus group sessions. This requires respondents to invest time with the online research platform team before officially participating, and get involved before the actual date of the focus group meeting. Running a preliminary meeting allows the researcher to assess how many participants are likely to show up and can allow for adjustments prior to the start date.
The preliminary test also serves to resolve any technical issues with the respondent before participating in the focus group by introducing participants to the software that will be used in the study. An online research platform team member can ensure a more efficient and effective session by talking through instructions and answering any questions participants may have in advance. All of these factors help the team fully address show rates and reach quotas for each session properly.
6. Focus on Solid Communication
Increasing participant comfort is a key variable to facilitate considered answers that can provide real insight into consumer opinion and experiences. Encouragement from a moderator is a part of a solid communication plan as it helps engage participants and establishes a more personal connection for more open dialogue.
7. Pay Attention to Time
Online research is no different than in-person in regards to respecting participants' time. Participants commit to the length of time scheduled and can burn out if their session runs over, so being mindful of the length of time for any given session is imperative.
A max time of two hours is ideal to ensure that a sufficient amount of data is collected, while preserving the mental stamina of each respondent. For focus groups with more than 4 participants, you may find you need every second of that two hours to cover all questions on your agenda!
Focus groups consisting of two to three participants, as well as one on one interviews, you may find you only need 60-90 minutes to cover the same amount of material.
If the research objective requires the participants to engage in a unique task, such as a taste test or product interaction, additional time will need to be factored in. This extra time should account for periods when the moderator and participants are not speaking with one another.
8. Six is the Magic Number
Considering that respondents, clients and observers all need to benefit alike from the focus group experience, maintaining the right size group is key. Industry best practices sets the ideal number of participants in online qualitative research at about six. This provides enough variation for diverse opinions with the ability to successfully manage the conversation. It is the best foundation for gaining quality insights that deliver business impact.
Traditionally, in-person focus groups include about 8-10 participants. For online research, larger groups can be harder to manage. Managing interruptions and controlling the flow of conversation is easier in a smaller group. Also, technology and bandwidth issues should be considered when setting a limit on the number of respondents.
9. Secure a Partner
A quality online focus group partner is well-equipped to carry out special cases and unique requirements of any research project. Early contact with a vendor is especially helpful to ensure that the venue has enough time to satisfy any exceptional research needs. Many focus group facilities can help brainstorm solutions to less traditional issues and can deal with unexpected roadblocks given ample time. Each vendor has a particular way of executing focus group projects and tackling tumultuous areas of the research process. In order to come up with the most feasible solutions, focus on securing a vendor who functions like a partner in your project.
Technology is the responsibility of a quality online focus group research platform provider. A quality online focus group platform provider will set you up with proven technology. Your provider should be your partner in developing the right strategies and provide actionable insights and invaluable user data. Establishing a strong framework, interviewing the right people and reaching out to a vendor quickly are significant drivers of both successful online qualitative research and significant project development.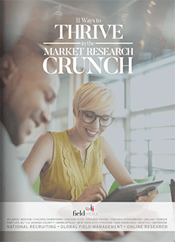 We have a guide for that
Want a few more tips for navigating your next project? Pressing deadlines aren't going away anytime soon. We gathered together the 11 best tips and tricks to help you beat the crunch without ever sacrificing the key ingredient – quality.